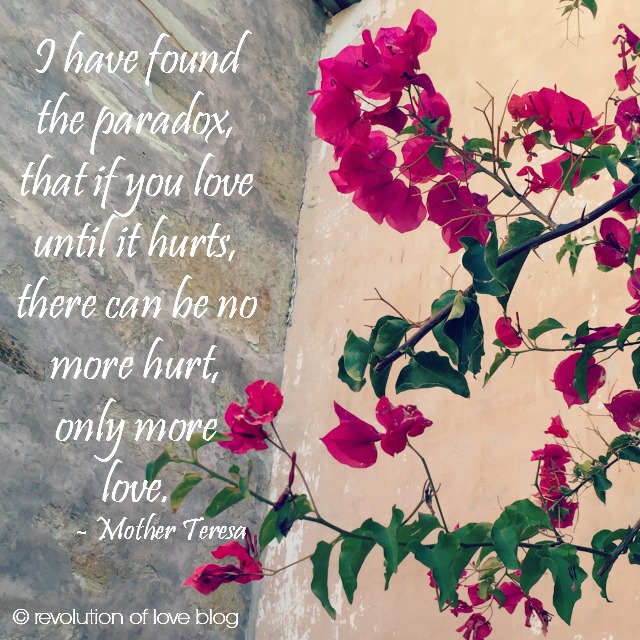 It's been a long and stressful week. My father-in-law is recovering from his stoke, although he is having heart issuesw which has not allowed him to leave the ICU. We are pleased he is getting the best care at Stanford but it makes spending time with him difficult since we are 90 miles away. My mother-in-law is unable to board up there so Brian drives and stays with her at Stanford on the weekends and we've been trying to round up enough of her friends to help drive during the week so Brian does not have to miss too much work. I feel bad for my in-laws and I am doing what I can to make this situation easier on them.
However, that also means doubling my current busy workload. That would be fine if I was a saintly woman who loved to suffer. It is not so great for a selfish sinner who hates to be put out. By Monday evening I was drained. Brian came home and we had a conversation like this.
Brian: You won't believe what I just saw outside. There are four wild turkeys in front of our driveway.

Bobbi: Are you sure those aren't just our kids?

Brian: No! There are huge turkeys walking up the street.

Bobbi: What the heck are turkeys doing in the neighborhood? That's weird. So is that a good omen or a bad omen?

Brian: Well, it could be that we are in a time of Thanksgiving.

Bobbi: Or it could mean we are about to be shot, beheaded, plucked and cooked.

Brian: (Sighs)
Yeah, I was not in the mood to be looking on the bright side. Later that evening, after apologizing to Brian for being so grouchy, I started thinking about a Hallmark movie I recently saw. (Don't hate on Hallmark. I love those sappy love stories.)
In the movie, A Novel Romance, two characters were having a discussion. The young woman Sophie was talking to an older friend Harris. They were recalling his wife who had died. The conversation went like this:
Harris: I don't pretend to know much about relationships. I only loved one woman in my life.

Sophie: You found your one true love.

Harris: I know that now, but when Lola and I were together it wasn't always so clear. Loving someone is the hardest work there is. Oh, I messed up plenty. So did she. We disappointed each other sometimes. We said things we regretted later, but we never let it keep us apart no matter how bad things seemed at the time. It wasn't true love because it was easy. It was because we worked at it. We fought for it.
I love that.
It wasn't true love because it was easy. It was because we worked at it. We fought for it.
That little piece of dialogue pretty much sums up our life lesson as wives and mothers. I have found my true love but it isn't always kisses and love notes. There are also disagreements and annoying habits and the monotonous day to day chores. I have four sweet babies but it isn't always hugs and kisses and drawings for mama. There are also messes, laundry, tantrums, sleepless nights and an endless stream of toys on the floor.  There are seasons of joy and celebration and there are seasons of heavy crosses – illness, job loss, miscarriage, infertility, (or no break between pregnancies,)  a death of a loved one. These big and little crosses stretch us and test us to the core. We find out if our love is only pretty words or the real thing through thick and thin.
I admit there are times when I can't take it and just want to scream. Why am I so stressed? Maybe because I spent too much time goofing off on the computer and then I had to rush around in a tizzy to get dinner on the table. Or maybe I am tired and cranky because the night before I binge watched too many episode of my favorite show. Times like that, I have no one to blame but myself. I know I am capable of doing what I need to do but I am just being very self-centered and not wanting to love the way God is asking me. My priorities are askew and I need to make corrections pronto.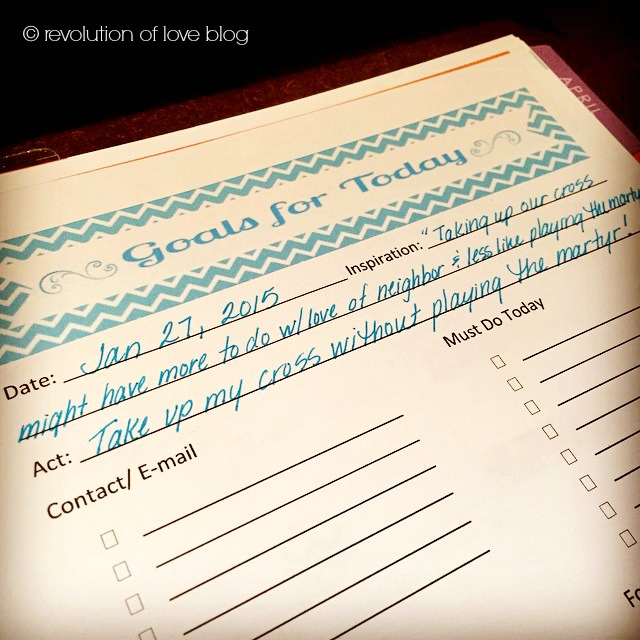 Monday was one of those days. I made matters worse by not doing first things first – ie. prayer and daily duties. The following day I made sure to put prayer first. I opened up my daily meditation and began to pray.
Sometimes God is every so gentle with me and sometimes He just gives me the swift kick in the arse that I need. This was a swift kick day. The line that jumped out at me was
'Taking up our cross' might have a little more to do with love of neighbor and a little less like playing the martyr.
Ouch. This kept echoing in my head – "Pick up your cross without playing the martyr."
But I am so good at playing the martyr, Lord! Huffing and puffing and rolling my eyes because nothing is working out the way I want it. At those times I can almost hear Jesus say, "Really? After all that I've done for you, this is how you are going to act? Like a spoiled child? Is your love really that fickle?" Sigh. Our Lord knows me too well.
However, there are those days, when I am seriously giving 110% of myself and it is still not enough. I am overwhelmed by the weight of whatever cross I am caring. That is when Jesus is most gentle with me. He comforts me and gives me the grace to love even when it hurts. That is when He reminds me to slow down long enough to look at the blessings around me, despite the difficulties.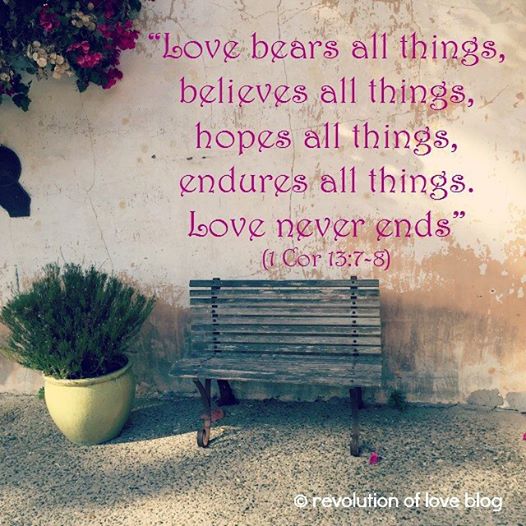 To love someone, whether a spouse, child, parent or friend, means to be there in the good and the bad. To lift them up and carry them when they are weak. As I type this, I'm getting a mental picture of Samwise Gamgee as he carries Frodo up the slopes of Mount Doom. That is love. Right now God is calling me to be Samwise to my family. I need to stop whining and get to work.
I've been in this position before and I know what I must do to survive it.
1. Drop to my knees.
My day goes so much better when I pray in the morning, whether it is long of brief.
Talk to God throughout the day. I need to ask for God's grace and for the strength and courage to follow his will in my life right now.
When the complaining starts to enter my mind, I need to give it to God and ask for his grace to see the good around me.
2. Take care of my physical needs.
Eat. (No skipping breakfast then binging at lunch because I'm starving.)
Take my vitamins and drink. (Water, that is.)
Exercise. Sure my beach walks are awesome but those are getting more difficult these days. Even a 10 minute walk up and down the driveway is better than nothing.
Sleep. I am a night owl and I have to force myself to not stay up until the wee hours of the morning.
3. Know my limit and not be afraid to ask for help.
I can do a lot (when I am in the right frame of mind) but when I reach the point of losing it, I have to do whatever I can to step away or take a break. If Brian cannot watch the kids for a little bit then I need to find someone who can give me a hand.
Sometimes even a call from my mom and just hearing her voice is enough to settle my spirit and give me strength.
There have been many times people have offered to help but I always tell them, "oh, that's okay" because I feel like I need to do it myself. People want to help. I need to humble myself and let them.
These are a few steps I take to help me love and live my vocation as a wife and mother. What about you? What things help you when you are loving until it hurts?
* * * * *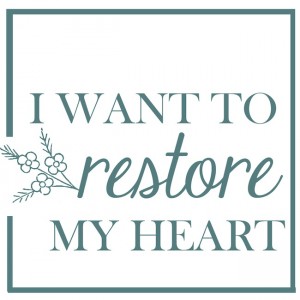 Photo Credit – ElizabethFoss.com
I know I mentioned this before but if you are in a difficult season of life or you feel like you are struggling to find joy and peace in your current chaos, I strongly recommend Elizabeth Foss' online Lenten Retreat – Restore. I joined last year when I was struggling with Brian's cancer and caring for the household and it did wonders for me. The daily meditations, the essays and the podcasts were a balm to my soul. A year later, I still go through my notes and remind myself of the lessons God was teaching me.
Currently, I am not experiencing the burnout I had last year but I signed up for the retreat anyway because I know the Holy Spirit will use it again to continue to guide me and draw me closer. I understand that the cost of $65 is more than some people can afford. If that is the case, but you feel like you need to go, then lay it before the feet of Jesus. Tell him that if you are meant to go, then to please provide the means. He just may surprise you.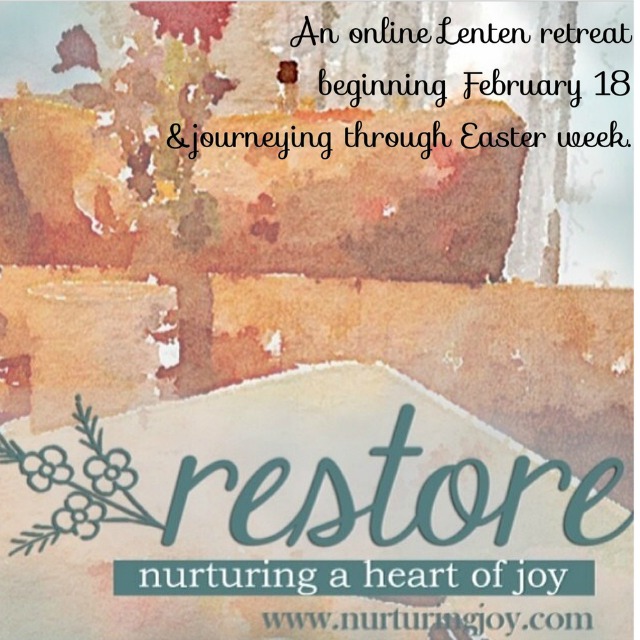 Photo Credit: ElizabethFoss.com
I hope you'll join me so we can make this journey together. Have a blessed weekend!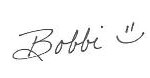 PS – You can follow RoL on Bloglovin, Feedly or another news feed. If you are a social media fan like me, we can stay in touch through Facebook, Twitter, Pinterest, GoodReads or Instagram.